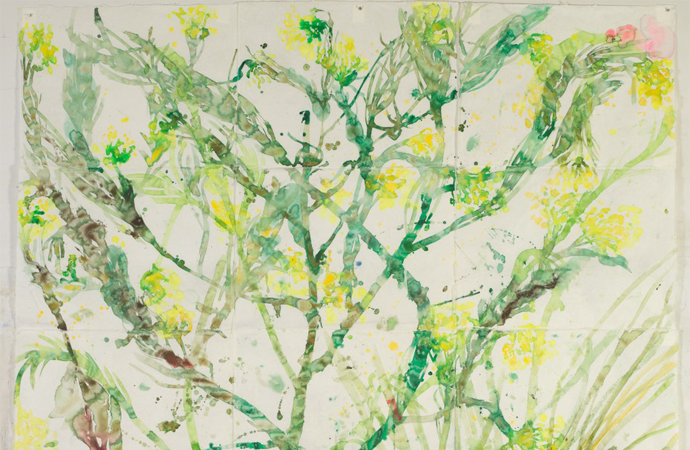 IN THE GARDEN (winter II)
About lust for live, in contact with the other, through the image open the gate of each others world. Come sit on my garden bench with me.
My work takes place in the garden. My backyard, a mini sized city garden in which the plants live together. Since 2011 I follow the rhythm of the garden. The daily drawings have grown into huge watercolors in recent years by watering them well. The bamboo paper I work on is taped together, like a map. You can wander around in those drawings. Is the garden an oasis in the 24/7h burn out society in which I sleep too short and can't seem to stop doing more and more?
A place – in between – for an activity – in between – the rhythm of the creative creative process. Last summer I wrote an essay about this. The language is in this year as the discovery of a completely new district in my work. Writing and rhythm. Writing in a rhythm. Writing is rhythm. A very slow rhythm. Drawing and rhythm, writing and rhythm.
Garden Programm (in progress)
Daily at 5 p.m. a meeting with a different guest everytime on the garden bench. Fine art students and professionals next to each other. Art for me is about lust for life, being in contact with the other and through the image to open the gate of each other's world.
27th Opening Night
28th Tea X perience with Marleen van Wijk (HKU fine art year 4)
29th Guest:
30th Guest :
Welkom bij WordPress. Dit is je eerste bericht. Pas het aan of verwijder het en start met bloggen.